So I just viewed "Fifty Shades Freed" over the weekend.  For those who are unfamiliar with the movie, it's the final installment of the "Fifty Shades of Grey" series of movies and based of the novelizations of author E.L. James.  The novels center around the romantic adventures of billionaire Christian Grey and his young and naive love interest Anastasia Steele as they explore the delectable world of B.D.S.M.  Throughout most of the series (movies anyway), they discover a love hidden inside their initially contracted foray into the world of deviant sex.  What starts as innocence meets extreme sexual experience, it eventually turns into the student becoming the master teacher of life and the power that love possesses to break any form of bondage.
This last outing, "Fifty Shades Freed," finds Christian Grey and Anastasia Steele having worked out some of their more basic issues with forming a relationship and have now reached the point of marriage.  This is something we find out from part two and moving forward, there may be slight spoilers.  But, they do marry and find that their struggle becomes one of trust and the question of what they'd like to do next with their newly formed bond.  I should mention that their also happens to be the issue of a really pissed off former boss of Anastasia that is hell bent on gaining revenge at any cost for her having taken his position and ruining his life and career.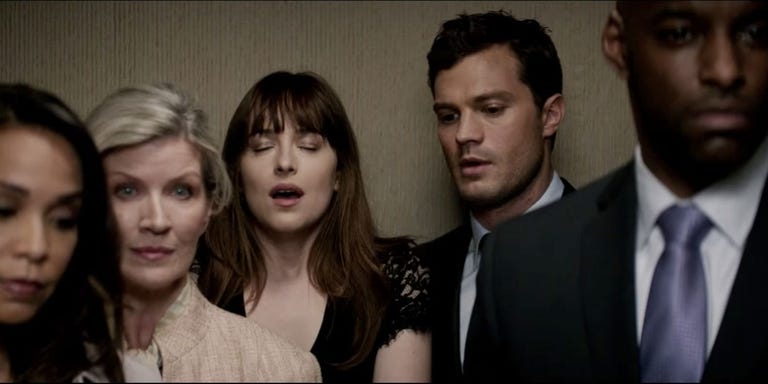 The Good
I haven't read the books, but it's my understanding that they are pretty phenomenal reads with good enough motivation for studios to make a series of movies.  But it seems to be similar to other movie franchises such as "Twilight" and "The Hunger Games".  From what I understand, both those series are great books but upon viewing the movies I find they are only respectable.  And with that said I definitely like both those series and it's the same thing with "Fifty Shades", but when I view this movie and the previous movies mentioned, I see them as more of an introduction and a prompting to want to go and read the novels just to get the full rich picture.  I guess that's how I can sum that up, as this movie being an advertisement to the books.  That said, I thought it was a solid film and though the first installment started off somewhat slow and a little awkward on the actors' chemistry, it definitely picked up by the second movie and finished strongly with the third.  The characters of Christian Grey and Anastasia Steele both exhibit a complex enough personality with all their dilemmas and concerns and the chemistry that comes along with it.  This is one of the things I was really happy to see pickup after much criticism in the first film.  So, by the end of this movie, though wrapped up rather quickly towards the end, I did feel a measure of satisfaction in seeing the two of them happy together.  Not much else to say as far as that except that it was well written and well-acted and turned out better than expected.
The Bad
I don't think I have a lot of bad things to say about this movie.  For what it is (love story) it delivered on many of the check marks required to deliver a decent flick.  I suppose the greatest complaint would be based on the overall premise of the movie which is two people finding love and how they actually reach it.  That's somewhat of the kicker for me in this movie…how they reach their state of happiness.  I don't have an issue as to the fact that they made it, but more so how.  What I mean is, "Fifty Shades" is based on the world of alternative sex.  That's the bases of what these two experience in their journey to a fulfilling relationship.  My problem with the whole domination theme in this film and the previous two has always been that there simply wasn't enough of that displayed throughout the series.  I think the second film, "Fifty Shades Darker" did the most cutting loose with this style of play but it just didn't feel hardcore enough to me to create the most impact when it was time to tuck that away and have real love.  Maybe that's just the freaky side of me wanting to see some real 'get down'.  I think with more of that there could've been some opportunity for greater impact in the story overall.
That brings up the point of the villain, who in essence had plenty of motivation to gain his revenge and cause issues for our antagonists, but still felt pretty generic.  In my mind, and at the end of the last film, I really had it in my head that he (Jack Hyde) would be a big part of the physical threat, but I was even more so looking for Elena Lincoln (Kim Basinger) to step in and cause an even greater emotional dilemma for Christian Grey.  That is, Elena being the one who essentially introduces and trains Christian in ways of the dominant lover, to return with a vengeance and threaten to distract him from truly opening up to Anastasia.  Hell, it would've even been nice to see Elena attempting to turn Anastasia out even more.  Ok, ok, I know that's wild but the stakes could've easily have been raised.  The movie was about two hours, on par with the others and relatively slow moving, so creating more complexity would've been a plus.
Who This is For
Well, this is not for super freaks, children and folks with heart conditions.  It would serve better as a decent love story for those looking for a little Valentine's weekend movie watching or just wish to enjoy something together as a weekend cuddle.  Not a complex story or fast paced by any means and not a whole lot of thinking to do to figure out what's happening.  As far as love stories go, not the worst and not the best, but a decent middle of the road movie experience that takes very little chances.
***Scale of 1-10: 5.0
Directed by
James Foley
Produced by
Screenplay by
Niall Leonard
Based on
Fifty Shades Freed
by E. L. James
Starring
Music by
Danny Elfman
Cinematography
John Schwartzman
Edited by

Production
company

Distributed by
Universal Pictures

Release date

February 6, 2018 (Paris)
February 9, 2018 (United States)

Running time

105 minutes[1]
Country
United States
Language
English
Budget
$55 million[2]
Box office
$276.9 million